Have you ever experienced a slump in your homeschool? This summer, I experienced an unexpected homeschool identity crisis. It was something that I didn't see coming. I was happy with the curriculum that we were using, but I just couldn't shake an uneasy feeling I had all summer. Finally, I realized that we needed a change of pace in our homeschool. Today, I am going to share my experience with Schoolhouse Teacher and how to utilize this wonderful resource in your homeschool. In addition, I will teach you how you can change your homeschool with Schoolhouse Teacher and get out of the homeschool slump.
BE SURE TO PIN FOR LATER
A heart for homeschooling
I love homeschooling. There are so many wonderful things about it. I get to spend every day with my children watching them learn new skills, discover new information, and develop new interests. We homeschool for many reasons, but the number one reason is to learn about God through the Bible, which isn't possible in the public school system.
I thought things were going great with our homeschool. My kids were learning. Since the curriculum we used was largely self-directed, I was able to accomplish some paperwork while they completed their school work. However, as summer came to a close and the new school year approached, I started feeling uneasy. I found myself dreading starting school. This was unusual. Normally, I look forward to each new school year. I couldn't put my finger on why I was dreading it.
My kids were also dreading starting the new school year. This isn't all that unusual. My kids have it pretty good. Living on a farm, my kids free-range all summer long. Yes, they have chores to do, but in their free time, they can roam the farm and play outside all day long. This is one of my favorite things about living on the farm. They make-believe and come up with games to pass the time. This summer my kids spent their time outside playing baseball and riding bikes. So reigning them in when the weather is still beautiful is not an easy task. But all good things must come to an end.
Time for a Change
As summer came to a close, I started praying about homeschool more fervently. I tried to shake the feeling of dread. After all, I thought ACE was working great for us. You can read more about the curriculum here. I really liked ACE. It is comprehensive, and not common core aligned. ACE really helped my struggling reader improve his reading and comprehension skills. For that, I am forever grateful for the program. I love the stories of the characters woven throughout the PACES. We have been using it for three years. Then it hit me, we needed a change of pace. No pun intended. My kids were burned out on ACE.
At this point, I knew I needed to change the curriculum. Part of me was really disappointed because I really enjoyed ACE, but my kids did not. What were we going to do instead? Around this time, I received an offer from Schoolhouse Teachers.
What is Schoolhouse Teacher?
Schoolhouse Teacher is a computer-based homeschool curriculum that provides over 426 courses from PK to Grade 12 and over 1000+ videos on demand in the media library. All at the click of a mouse button. There are not live teachers, so it self-paced. Almost every subject imaginable is available.
All course materials are included and you can cancel at any time. I believe this site is the best secret weapon for homeschoolers. The quality and quantity of classes are unbelievable for the price. It is so comprehensive and covers so many areas of study. My biggest complaint was narrowing down what classes to chose for my children. All the core areas of teaching are covered such as Math, Language Arts, History, Bible, Art, Physical Education, Science. Each subject has a variety of class options. Here are just a few examples of some elective courses: Web game design, Wholefood cooking, Guitar, Great Musicians, All about Animals, etc.
Here is an example. I have been wanting to try Drive Thru History for my children, but it wasn't in the budget. Schoolhouse Teacher membership includes Drive Thru History Videos and study guides with comprehension questions. This class alone makes the cost of Schoolhouse Teacher worth it.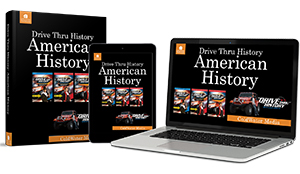 But how much does it cost?
Since I mentioned it, let's talk about the cost. Schoolhouse Teacher will change your homeschool at such an affordable cost. They offer both monthly and annual subscriptions and are always running specials. And don't worry, your price will not jump up super high once your introductory offer is up. It is one of the most affordable programs out there and in my opinion the best quality and quantity for your money.
Right now, Schoolhouse Teacher is running a special. If you are ready to change your homeschool with Schoolhouse Teacher click here.
How to Change your Homeschool with Schoolhouse Teacher?
Once you sign up here, using Schoolhouse Teacher to change your homeschool is easy. I highly recommend watching all the tutorial videos. The site is laid out very well, but all the information can be overwhelming. The tutorial videos are excellent and I guarantee you will quickly become excited about all the learning potential and possibilities on the site.
After you have joined, you have access to over 426 classes, plus many other wonderful bonuses including recordkeeping, meal planning, planners, parenting and marriage resources. There are also scope and sequence resources for each grade level. The classes can be sorted by subject or by grade level. In my next post, I will share with you some of the specific Schoolhouse Teacher resources and classes we use in our homeschool.
If you are experiencing a homeschool slump, or even if you are just looking for some supplemental homeschool resources, I encourage you to check out Schoolhouse Teacher. It is a comprehensive, high quality educational and affordable resource for homeschools.
Have you tried Schoolhouse Teacher? If so, tell me about your experience in the comment section. What is your favorite part of Schoolhouse Teacher?